North Logan
Parks & Recreation
♦♦♦♦♦♦♦♦♦
2014 Summer Exercise Activity
Click here for the NLC 100 Miler Brochure
Click here for an Activity Listing Comparison
(Minutes to Miles)


♦♦♦♦♦♦♦♦♦
Note: KRAZY HAIR for a Cure is also a
"Kids Fun Run" Cache Valley Unplugged Activity
♦♦♦♦♦♦♦♦♦
North Logan City
Sports & Activities


KICKBALL Registration
For kids ages 3 to 8.
Registration begins June 1st, Games begin in July.

♦♦♦

ITTY BITTY BALL CLINIC

2nd Session (July 1-17) Registration: May 5th to June 29th, Cost: $25.00

The clinics teach children the basics of Basketball, Soccer and T-Ball. Clinics run for three weeks on Tuesday and Thursday at Elk Ridge Park. Spend quality time with your sons and daughters helping introduce them to new and fun activities.


♦♦♦

TENNIS LESSONS

The North Logan Parks & Recreation will be conducting tennis lessons for youth ages 8-14 at the new tennis court at Elk Ridge Park. Registration begins May 1st and will be first come first served. There is a limit of 4 participants per session and each session is $35.00.


Session #1: Beginner
Session #2: Intermediate
Session #3: Beginner
Session #4: Beginner
Session #5: Intermediate
Session #6: Beginner
Mon-Thu 8am-9am July 28 to July 31
Mon-Thu 9am-10am July 28 to July 31
Mon-Thu 10am-11am July 28 to July 31
Mon-Thu 8am-9am Aug 4 to Aug 7
Mon-Thu 9am-10am Aug 4 to Aug 7
Mon-Thu 10am-11am Aug 4 to Aug 7
♦♦♦♦♦♦♦♦♦
July 23rd - SPLASH & DASH IN DESERET Fun Run

Fun Run: 7pm @ Elk Ridge Park
SPLASH & DASH is a "Kids Fun Run" Cache Valley Unplugged Activity
♦♦♦
July 24th - PIONEER DAY CELEBRATION
There will be a full day of activities at local parks
♦♦♦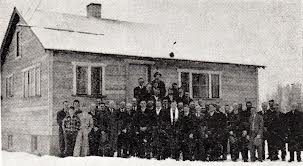 CALLING ALL 80 YEAR OLDS!
We would like to recognize the early residents of North Logan at our Pioneer Day festivities in July. If you were a resident of North Logan City when it was incorporated in 1934 and would like to be part of our festivities, please contact Alan Luce at alan@northlogancity.org or call the city offices at 435-752-1310.
♦♦♦♦♦♦♦♦♦
Park Facilities: Call 752-1310 ext. 10 for information
Elk Ridge (City Park) 1100 East 2500 North
Meadow View (City Park) 2720 North 300 East
King Park (City's Nature Park) - Mouth of Green Canyon
Mountain View (Owned and Operated by the LDS Church) 1100 E 2100 N
Senior Citizen Organization:
Contact the North Logan City Offices for information on North Logan's Senior Citizens' activities. They normally meet once a month on the second Monday of each month for a luncheon at 12:00 noon.
♦♦♦♦♦♦♦♦♦

ATTENTION BUSINESS OWNERS - Help Support Baseball & Softball:
The softball and baseball programs of North Logan City bring around 1,000 people per week visiting Elk Ridge Park over a five month period. This is the second year we will do fence banners for the Elk Ridge Park fields. To give you the best advertising possible a 40"x48" advertising signs will be hung on the outfield fences at Elk Ridge Park from May thru September. All you need to do is provide a JPEG or PDF of your company's advertisement (submit to bdaniels@northlogancity.org) and submit the Advertisement Form and Fee at the City offices (2076 N 1200 E).

The North Logan Parks and Recreation Department reserves the right to determine the banner location on the homerun fence at Elk Ridge Park. Advertisers may keep the signs when their contract is over if they wish to not renew their contract.
COST
FENCE RENTAL DURATION
ITEMS INCLUDED
$200
1 Year*
- includes banner cost -
(full color, anti-fade, air-vents)
$500
5 Years
- includes banner cost -
(full color, anti-fade, air-vents)
$750
10 Years
- includes banner cost -
(full color, anti-fade, air-vents)

*Yearly renewal for single year banner = $125
If you have any questions regarding advertising, please email
Alan Luce, Parks & Rec. Director at alan@northlogancity.org
♦♦♦♦♦♦♦♦♦